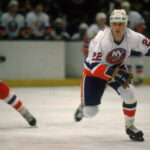 Sweater numbers are synonymous with players. Most hockey fans can instantly tell you a great player by the number they wear on their back. There are many different stories about how players became associated with the famous numbers. Many odd and interesting facts surround these numbers as well. As we count down the start of the 2023-24 NHL season, we take a look at the story behind the numbers. Today we continue with sweater number 22. Keep up to date with the series everyday until the start of the 2023-24 NHL season.
Behind the Sweater Number: 22
The First 22s
According to Hockey Reference, 522 players have worn sweater number 22 since since jersey records were kept in the 1950-51 season. However, it does not list any players before then that may have taken the number. Hockey Reference lists six players in that 1950-51 season with the number. Norm Dussault of the Montreal Canadiens had the most points with 24 that season. However, Al Dewsbury had the most goals with five in that campaign. Dewsbury did this with the Chicago Blackhawks.
As we draw closer to the end of the countdown, we'll focus more the big-name players that wore the number. We'll also give more attention to the players that briefly wore sweater number 23. This series will also take a look at the future of the number and who may carry the digits.
Cameos
There are always a number of players that wore sweater number 23 that would go onto have decent to good careers. However, these were with other numbers. Donald Audette wore the number for his first season with the Canadiens in 2001-02. Hall of Famer Max Bentley had the number for his one season with the New York Rangers. Zach Bogosian carried sweater number 22 for one season with the Toronto Maple Leafs. Patrik Elias had 22 for a brief spell before settling on 26 for the New Jersey Devils. Butch Goring wrapped his NHL career with 22 for the Boston Bruins. Hall of Fame goalie Glenn Hall was 22 for the Detroit Red Wings in 1952-53.
Brett Hull spent the 1998-99 season with 22 before he got his trademark 16 for the Dallas Stars. Brian Leetch finished his career with 22 for the Bruins. Calgary Flames Al MacInnis had 22 before settling in on his trademark number two. Vancouver Canucks forward Markus Naslund had 22 for a season before getting 19. Willie O'Ree also wore 22 with Boston. Hall of Famer Pierre Pilote started his Chicago career with sweater number 22. Rene Robert was 22 before joining the Buffalo Sabres French Connection.
There have been plenty of great 22s in the league, but Mike Bossy was picked by many as the best to wear sweater 22. Bossy was an overnight star with 52 goals in 1977-78 to win the Calder Trophy. The Montreal native followed it up with a nice 69 goals in his sophomore campaign. Bossy would score at least 50 goals in all but his final season with the New York Islanders.
He have played only 10 years, but his haul of trophies was immense. Bossy won four straight Stanley Cups, three Lady Byng Trophies, a Conn Smythe Trophy and was an 8-time All-Star. Chronic knee and back injuries shortened the career of the great forward. However, he would become an analyst and joined the Isles front office in 2006. Bossy would sadly pass away at the age of 65 in April 2022.
Other 22s and the Future
Mike Gartner could make a case for being one of the greatest 22s of all-time. He scored 702 goals and was one of the greatest right wings in league history. Cases could also be made for Daniel Sedin, Rick Tocchet, Dino Ciccarelli. Sedin and his twin brother Henrik Sedin were two of the best players in Canucks history. Tocchet and Ciccarelli could both score, but also had a rougher edge to their respective games as well. Five-time Cup winner John Ferguson also wore the number.
There are plenty of exciting young players like Cole Caufield, Michael Amadio, Kevin Fiala and Brett Pesce are carrying on the number. Sweater number 22 has a great history.
Main photo by: Bruce Bennett Studios via Getty Images Studios/Getty Images
The post Behind the Sweater Number: No. 22 appeared first on Last Word On Hockey.