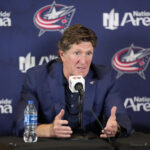 Well that was quick. The tenure of a veteran coach didn't even make it to the regular season, This is as Mike Babcock resigns as the Columbus Blue Jackets head coach. However, the position wasn't open long as Pascal Vincent was named the team's head coach. News of this broke Sunday afternoon via Elliotte Friedman.
Mike Babcock resigns as Head Coach of the Columbus Blue Jackets; club names Pascal Vincent Head Coach

https://t.co/n8j1F2aIG8 pic.twitter.com/NvItvLqzKo

— Columbus Blue Jackets (@BlueJacketsNHL) September 17, 2023
Mike Babcock Resigns from Jackets Job
Babcock had gotten another chance after a few years away from the game. He had an acrimonious end with the Toronto Maple Leafs and was seemingly nuclear despite winning Stanley Cups and Olympic gold medals. However, the Blue Jackets and general manager Jarmo Kekäläinen rolled the dice and hired him.
Babcock seemingly said the right things about how he improved his communication skills. He said he would be a better person, but he ran into trouble right away. This was due to reports from former NHL player Paul Bissonnette, who reported on his podcast Tuesday that Babcock was asking players to show him photos and projecting them for others to see in an invasion of privacy.
Captain Boone Jenner and Babcock denied the allegations, but the NHLPA launched a review and updated the league Friday on its findings. Babcock ultimately said he would be too much of a distraction and stepped down. Vincent was the associate head coach and was given a two-year deal.
What This Means
Babcock has likely seen his last chance to be an NHL head coach go away. He'll probably never have another shot behind the bench in the league again. What does this mean for Kekäläinen, as he gets another crack at finding a head coach? Does president John Davidson shorten the leash on the Finnish GM?
The news also creates a lot of upheavel in having to get to know a new bench boss. However, Vincent has been on the staff since 2021 since Brad Larsen was head coach. He may have familiarity with the players and that could help. However, this is a heck of a situation to step into.
Main photo by: Kyle Robertson-USA TODAY NETWORK
The post Mike Babcock Resigns as Columbus Blue Jackets Head Coach appeared first on Last Word On Hockey.