Rams host co-ed Football Clinic & Character Education session at Ventura Youth Correctional Facility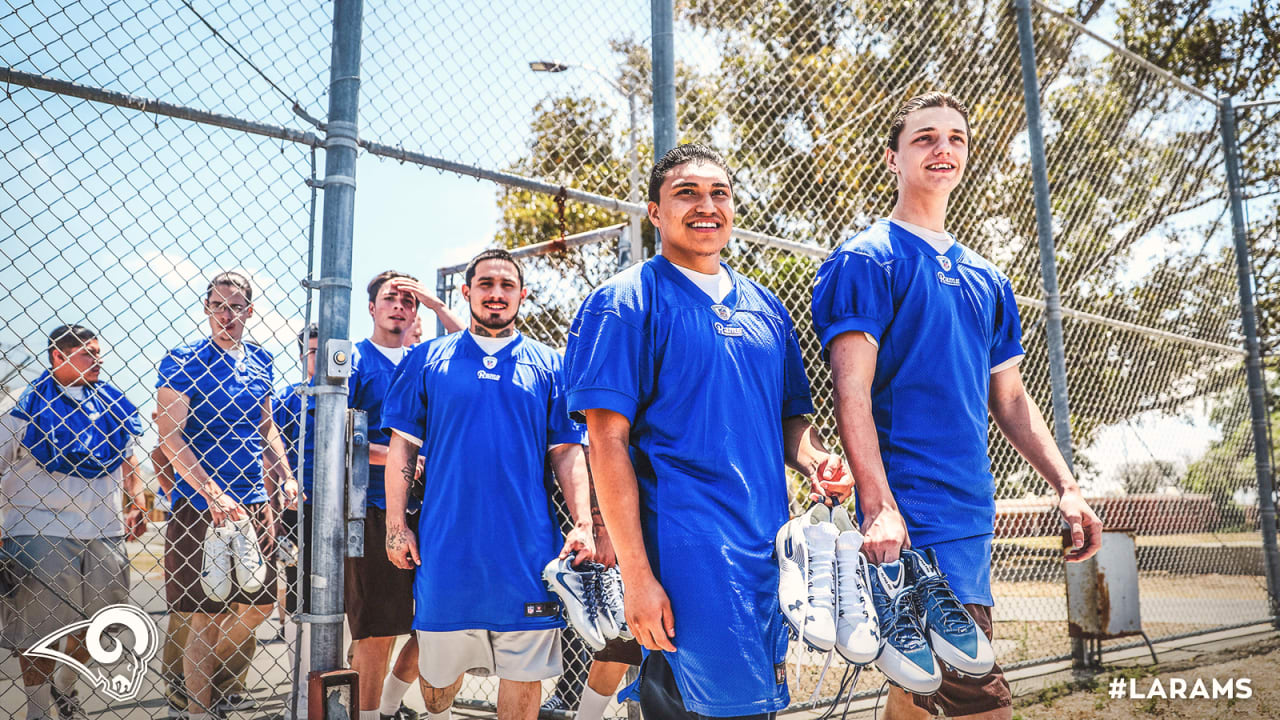 On Saturday, July 20, the Los Angeles Rams hosted a co-ed Football Clinic and Character Education session for approximately 100 young adults at the Ventura Youth Correctional Facility in Camarillo.
As part of the event, Rams Community Affairs/Football Engagement Manager JOHNATHAN FRANKLIN addressed the young adults before leading a Q & A session with Rams Linebacker DAKOTA ALLEN. During the discussion, Allen spoke about his journey to the NFL, experiences throughout his life, and what he believes helped catapult him to success. Rams Legends ROBERT DELPHINO, ANTHONY SARGENT, JOE SWEET & CEDRIC WHITE also led smaller group discussions covering the importance of goal-setting and the values of good character.
"We want to inspire them to create habits today that will put them in the best position to accomplish their dreams for tomorrow," said Franklin. "We're a part of one community and one city. Through the power of football, the Los Angeles Rams hope to inspire these young adults to be the best versions of themselves."
For Allen, the visit to the Ventura Youth Correctional Facility provided him an opportunity to provide encouragement to individuals who felt might need it most. By the end of the visit, he hoped the participants understood that they can empower themselves to move forward from their pasts. In fact, as someone who experienced a set back during his college years, Allen knows firsthand how to regain his footing and strive to achieve his goals.
"They're our future and I really just want to emphasize to them that even though you make a mistake, that doesn't define you. It's how you bounce back from it," said Allen.
Following the Q & A and discussion sessions, Allen, Franklin & Rams Legends engaged the group of young adults in a variety of football-related drills. During the drills, coaches taught participants the fundamentals of football while creating a team-friendly environment and an atmosphere filled with camaraderie.
"It's a blessing. We appreciate it. We feel good," said 20-year-old Naypone Gaines. "You see people on television and now you're playing with them. Just by looking at him (Allen), I would have never thought that someone playing football at the level he is now would have been through the types of challenges we're dealing with right now, so it was really cool for us to hear from him."
This visit was one of several that the Rams have made to the Ventura Youth Correctional Facility. Back in May of 2018, the Rams donated football cleats, athletic shoes and jerseys worn by Rams players to more than 100 young adults at the Ventura Youth Correctional Facility as part of their "Cleats for Character" program. In addition, last year, the Rams also purchased a set of TV's for the Correctional Facility youth so they can watch Rams games in a recreational common room on Sunday's during the football season.
Published at Fri, 09 Aug 2019 03:45:14 +0000