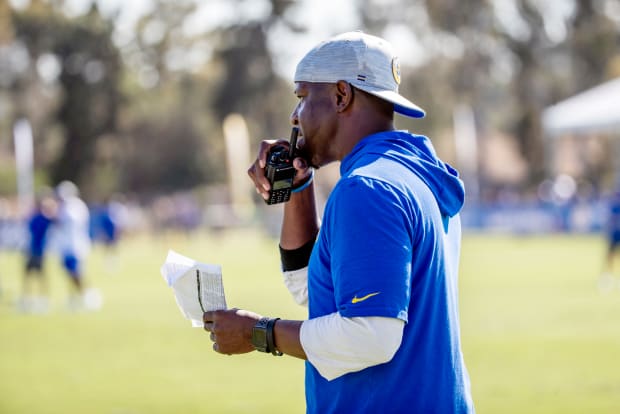 It's been over a decade since Raheem Morris last served as a full-time NFL head coach. But after leading the Los Angeles Rams' defense to a Super Bowl win last year, he's getting more looks as a potential head coach this year.
According to NFL insider Ian Rapoport, Morris has two head coaching interviews lined up for the coming week. Per the report he'll be interviewing with the Indianapolis Colts on Friday before visiting the Denver Broncos the following Tuesday.
Morris has served as the Rams' defensive coordinator since 2021. Prior to that he was the defensive coordinator and later interim head coach for the Atlanta Falcons during the 2020 season, going 4-7 after the team fired Dan Quinn.
Morris' last full-time head coaching job was with the Tampa Bay Buccaneers from 2009 to 2011, during which he went 17-31 with a 10-6 record in 2010.
Raheem Morris certainly has the requisite experience to get another shot at being an NFL head coach again. His record in Tampa Bay over a decade ago – when he was one of the youngest coaches in the league – probably won't be as big of a hurdle as it might have been a few years ago.
But Morris faces a ton of opposition for the top job at both of those teams. The Colts and Broncos have both cast very wide nets to find new head coaches and Morris is hardly the most qualified candidate out there.
Will Raheem Morris get a head coaching job this year?