Shortly after the Rams acquired quarterback Matthew Stafford via trade from the Lions, Stafford admitted that there were teams he did not want to play for. We recently heard that one of those teams was the Panthers, but we did not know how close Detroit and Carolina came to a deal.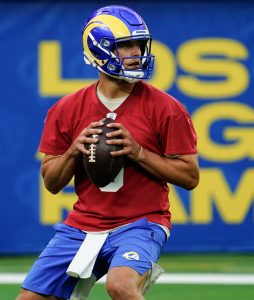 As Ian Rapoport of NFL.com reports, many believed that the Panthers — who were aggressive in their pursuit and who offered their first-round pick (No. 8 overall), a fifth-rounder, and Teddy Bridgewater — would be the ones to land Stafford. Indeed, the deal was reportedly just about done. But when Stafford learned of his would-be new home, he consulted with his family and told Lions brass that he did not want to go to Carolina.
Though the No. 1 overall pick of the 2009 draft did not have a no-trade clause, the Lions heeded his wishes. The 49ers and Colts were also said to be on Stafford's list of approved destinations, but Rapoport hears that he would have tried to veto any trade that would have sent him anywhere other than the Rams. If Los Angeles' offer did not compare with those of other suitors, Detroit probably would not have been able to accommodate the former face of its franchise, but ultimately the Rams ponied up two future first-rounders, a third-rounder, and Jared Goff, which the Lions determined was a good enough return.
By all accounts, Stafford had a terrific training camp, and his first season with his new team kicks off tonight against the Bears (who also pursued a trade for their longtime division rival).
Photo courtesy of USA Today Sports Images.