After missing the first half of the 2020 season, A'Shawn Robinson may not start the 2021 slate on time. The Rams defensive lineman is set to miss time because of a knee surgery, Sean McVay said Thursday.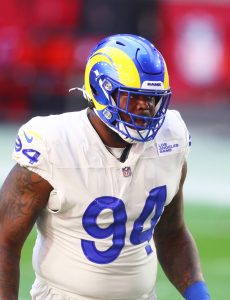 While McVay categorized this as a minor procedure, Robinson is expected to miss a few weeks. With barely two weeks remaining until the Rams' opener, the prospect of the team needing to make an adjustment to its defensive starting lineup now enters the equation.
A backup on last season's Rams squad, Robinson is expected to replace Michael Brockers at defensive end in this year's Los Angeles lineup. Robinson played just 111 snaps last season, one in which he missed eight games. The sides worked out an agreement that prompted Robinson to avoid opting out due to a respiratory issue, but the former Lions starter played a minimal role upon return. The former second-round pick, however, has 37 career starts and stands to be a bigger part of this year's Rams defense.
Los Angeles is quite light on experience behind Robinson. Among its top five backup defensive end candidates, only one — Marquise Copeland — has played an NFL game. And Copleland suited up for just one contest as a rookie. The Rams have Bobby Brown III and Earnest Brown IV as options, though both are rookies whom the team drafted on Day 3. Second-year UDFA Eric Banks did not see any action last season. Should Robinson need more recovery time, it will be interesting to see who the Rams choose to start alongside Aaron Donald and nose tackle Sebastian Joseph-Day in Week 1.
Photo courtesy of USA Today Sports Images.