The Rams paying up for Matthew Stafford led to numerous quarterback dominoes falling this offseason. Stafford is close to debuting with the Rams, who are among the NFC frontrunners, but he would have been fine being traded to two other teams earlier this year.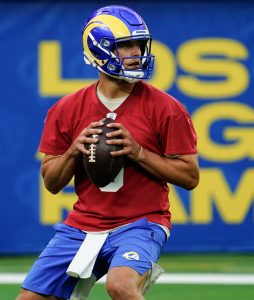 After Stafford asked the Lions to trade him in January, he listed the 49ers and Colts — in that order — behind the Rams on his destination wish list, according to Seth Wickersham of ESPN.com. Both teams entered the sweepstakes, with Kyle Shanahan confirming the 49ers' interest, but neither's offer approached the Rams' proposal of two future first-rounders and change.
The Colts discussed Stafford with the Lions but were a bit leery about the 33-year-old passer's long-term trajectory. They are not believed to have offered their 2021 first-round pick for the 12-year veteran. Indianapolis ended up sending Philadelphia a 2021 third-rounder and a 2022 pick that could well become a first for Carson Wentz. The 49ers were not believed to have been one of the six-plus teams to submit offers for Stafford, though Shanahan studied the QB while he was on the trade block and expressed disappointment upon learning the Rams acquired him. San Francisco then traded two future firsts and change to move up to No. 3 overall for Trey Lance.
Stafford also said there were teams he wanted to avoid. The Patriots are believed to be one, and Wickersham adds the Panthers were another. Carolina did offer its first-round pick — No. 8 overall — along with Teddy Bridgewater and a fifth-rounder. Carolina's involvement here eventually led to Bridgewater being traded to another unsuccessful Stafford suitor — Denver — and Sam Darnold going to the Panthers. The Rams acquiring Stafford also led Washington, which offered its first-round pick as well, to move elsewhere. The Lions-Rams deal certainly served as the 2021 offseason's pivot point.
Although Stafford did not have a no-trade clause, the Lions accommodated him after a lengthy January meeting when he asked to be dealt. Stafford initially went to Lions ownership about the trade request, Wickersham adds, noting that the team execs in that meeting were surprised but understood the veteran passer's position as another rebuild approached.
Photo courtesy of USA Today Sports Images.