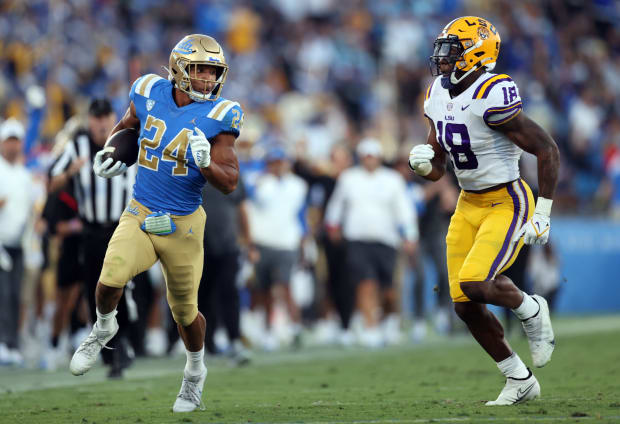 The UCLA Bruins continued their impressive start to the 2021 college football season on Saturday night with an upset victory over No. 16 LSU. Chip Kelly's ground game proved to be the difference maker at the Rose Bowl as his team beat out the Tigers 38-27.
With the win, UCLA is off to a 2-0 start in Kelly's fourth year with the program. The Bruins have already positioned themselves well to be competitive in the Pac 12 with much of the season still left to play.
Before UCLA started to look forward to the rest of the year, the team celebrated heavily in the locker room on Saturday. Athletic director
It just means more..💙🐻💛 pic.twitter.com/g9tTPejn2u
— Martin Jarmond (@MartinJarmond) September 5, 2021
">Martin Jarmond shared a video of the Bruins basking in the upset victory over LSU and also took a subtle shot at the SEC on social media.
Alongside the clip of the team's celebration, Jarmond wrote the caption "it just means more..", poking fun at the SEC's well-known slogan.
After Saturday's win, the Bruins have certainly earned the right to dole out a little smack talk. UCLA dominated the LSU defense, racking up 470 yards of total offense and 210 rushing yards. The Bruins averaged an astounding 7.5 yards per play against one of the SEC's most talented defenses.
Kelly has to feel good about where his team is positioned after two games. He entered this year with expectations of improving upon his 10-21 start with the program and is on the right track so far. The Bruins have probably done enough to vault into the AP top 25 this upcoming week, even though their head coach isn't worried about a label this early in the year.
"I don't care," Kelly said, via the Los Angeles Daily News. "It doesn't really matter in September. I think what's important is that they played really well tonight, you don't have to write down a ranking for these guys."
Of course, Kelly's opinion might change if UCLA keeps winning football games. After a bye, the Bruins will have another chance to pick up a victory against Fresno State.