Lakers center Montrezl Harrell is picking up his $9.72MM option for the 2021/22 season, according to ESPN's Adrian Wojnarowski (Twitter link).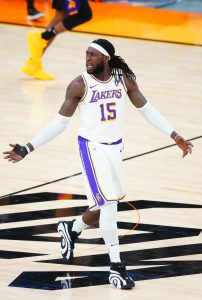 Harrell signed a two-year deal worth the mid-level exception last offseason with the Lakers. That deal included a guaranteed first year and a player option in year two.
The 27-year-old had an up-and-down season in Los Angeles, as his averages dipped to 13.5 PPG and 6.2 RPG following a 2019/20 campaign in which he put up 18.6 PPG and 7.1 RPG and won Sixth Man of the Year honors for the Clippers.
Harrell's fit with the Lakers wasn't quite as smooth as it had been with the Clippers. He virtually felt out of the rotation during the playoffs, logging just 39 total minutes in the team's six-game series vs. Phoenix.
With no guarantee that he'd match or top his option salary on the open market, Harrell is opting in for 2021/22, but he may not be a Laker much longer.
The Kings and Lakers have reportedly made progress on a trade that would send Buddy Hield to L.A. in a package that includes Harrell, the No. 22 pick, and either Kyle Kuzma or Kentavious Caldwell-Pope. That deal hasn't been agreed to yet, but Harrell's opt-in clears the path for it to be completed, and there's been momentum toward that happening, Woj reports (via Twitter).
If Harrell is traded to Sacramento, he'd likely assume the rim-running center role that Richaun Holmes played this past season. The Kings are interested in re-signing Holmes but have limited cap flexibility to do so and will face competition for him on the free agent market.
Sacramento isn't the only possible destination for Harrell, however. The Lakers have reportedly also gained serious traction on a deal with the Wizards for Russell Westbrook. If L.A. goes in that direction instead, Harrell could join Thomas Bryant in Washington's frontcourt.