Carmelo Anthony will be teaming up with Russell Westbrook, Anthony Davis, and LeBron James in Los Angeles, according to ESPN's Adrian Wojnarowski (Twitter link), who hears from Anthony's manager Bay Frazier that the veteran forward has agreed to sign a one-year contract with the Lakers.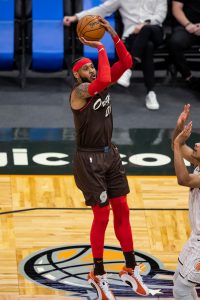 Anthony has confirmed the news in a video announcement on Twitter.
Anthony was said to be weighing interest from both the Lakers and Knicks on the first day of free agency and ultimately opted to team up with his close friend James for the first time rather than pursuing a second stint in New York.
After consistently averaging 20+ points per game earlier in his NBA career, the 37-year-old forward has transitioned into a complementary role in Portland over the last two seasons.
He averaged 13.4 PPG and 3.1 RPG on .421/.409/.890 shooting in 69 games (24.5 MPG) for the Blazers in 2020/21, accepting a full-time role off the bench for the first time in his career.
The Lakers have been busy filling out their rotation around their stars since free agency began less than 24 hours ago. So far the team has come to terms with Anthony, Malik Monk, Kent Bazemore, Trevor Ariza, Wayne Ellington, and Dwight Howard.
There has been no indication yet that any of those players is receiving more than the veteran's minimum, so the Lakers should still have their taxpayer mid-level exception available, as ESPN's Bobby Marks notes (via Twitter). There's also still no resolution on a few of the Lakers' own free agents, including Dennis Schröder, Talen Horton-Tucker, and Markieff Morris.