Forward Nicolas Batum has agreed to re-sign with the Clippers on a two-year contract, Shams Charania of The Athletic tweets. The contract includes a player option in the second year, Ohm Youngmisuk of ESPN tweets.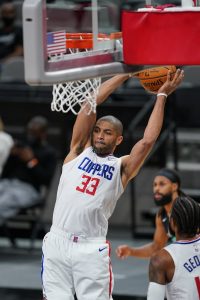 Los Angeles held Non-Bird rights on Batum, allowing the team to re-sign him for $120% of his minimum salary. By utilizing those rights, per Andrew Greif of The Los Angeles Times (Twitter link), the Clippers still have the $5.9MM taxpayer exception at their disposal.
It's a coup for the Clippers, who were expected to face plenty of competition for Batum's services, including from Portland, Golden State, Miami, and Indiana
After getting buried on Charlotte's bench the previous season, Batum enjoyed a career revival with the Clippers. He averaged 8.1 PPG, 4.7 RPG and 2.2 APG in 67 regular-season games, including 38 starts. He also averaged 8.1 PPG, 5.5 RPG and 2.1 APG in 16 postseason games.
Batum began his career in 2008 with Portland.