For the past week, my friend and I have been waking up early before work to watch and text back and forth about the only active baseball league right now: the CPBL. The CPBL is the highest level of professional baseball in Taiwan and although the acronym stands for 'Chinese Professional Baseball League,' the CPBL is based entirely on the island state of Taiwan and does not include any teams from Mainland China.
The league is currently comprised of 5 teams, each of which are owned and named after a large corporation. The teams are:
Rakuten Monkeys
Fubon Guardians
Chinatrust Brothers
Uni-President 7-Eleven Lions
Wei Chuan Dragons*
*The Wei Chuan Dragons are currently in the process of being reintroduced to the CPBL and will rejoin in 2021 after completing the current season in Taiwan's minor league.
The game play and skill level of CPBL games compare to that of Double-A. The main difference, however, is that these games are hitter-friendly and it is normal for teams to score upwards of ten runs per game. Get a chance to watch an English language broadcast and you will undoubtedly hear the commentators reiterating for new American viewers that a five-run lead is not a big deal in Taiwanese baseball.
Normally, the CPBL season runs from March to October and includes a regular season of 120 games, divided into two 60-game halves, a wild card series, and a final Taiwan Series with a winning team advancing to the Asia Series to represent Taiwan. With recent fluxes in the number of CPBL teams, the season structure may be altered to accommodate the changing league size.
Among the list of notable CPBL athletes is Manny Ramirez, who played for the EDA Rhinos (renamed the Fubon Guardians in 2016) during the 2013 season. Just this past week, Man Ram, who turns 48 on May 30, made it known that he is seeking to return to Taiwan as a player-coach.
"My goal for 2020 is to find a roster spot in the CPBL," Ramirez said during a recent interview with the Taiwan Times. "I have been itching to get back in the batter's box and be able to compete again."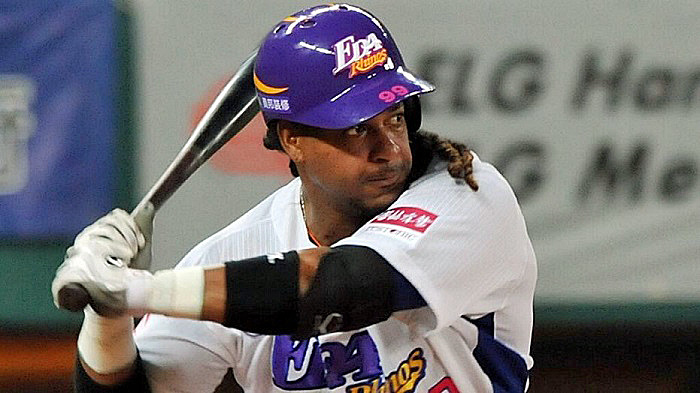 Another former Dodger to have played in the CPBL is Taiwanese Left-hander Hung-Chih Kuo, who pitched for the Dodgers from 2006 through 2011. Kuo played for both the Uni-President 7-Eleven Lions and the Fubon Guardians at different stages of his career.
Anyone who would like to start watching CPBL games can usually find an English language broadcast on Eleven Sports Taiwan's Twitter page (@ElevenSportsTW) or can search the internet using "CPBL Live Stream". On the East Coast, watching these games means getting up early. Baseball fans on the West Coast on the other hand, will have to stay up late or wake up in the middle of the night to catch a game at around 3:35 AM.
  *  *  *  *  *  *