When news broke this past week that MLB had postponed the Opening Series between the Washington Nationals and New York Mets at Nationals Park in Washington DC after four Nationals players had tested positive for COVID-19 and an additional seven players and two staff members placed in quarantine for contact tracing, it's probably safe to say that every Dodger fan on the planet said 'Oh, shoot' … or something to that effect. As Dodger fans know, their beloved team is scheduled to host the Nationals beginning this Friday, April 9, at Dodger Stadium.
But that's only the half of it.
Friday will be the Dodgers 2021 Home Opener, with pregame ceremonies that will include the presentation of the 2020 World Series Champion rings to the Dodgers players and staff and the raising of the World Series banner before kicking off a three-game series with the Nationals.
But even before that potential nightmare even begins to take shape, the Atlanta Braves are scheduled to open a three-game series with Washington at Nationals Park tomorrow, and you can bet that the entire baseball world is watching and waiting to see what MLB commissioner Rob Manfred plans to do with that one.
"I know that is at the forefront of everybody's mind, including ours here," Nationals General Manager Mike Rizzo said on Sunday. "No decision has been made by MLB yet.
"The four players who are positive and continue to isolate and are doing well," added Rizzo. "Any symptoms that they may have been experiencing have subsided. They're feeling much, much better, which is … that's a good thing.
"We have had one additional player and one staff member added to our quarantine list, that was by the D.C. Department of Health, bringing our total number of players in quarantine to seven, plus two staff members. They are doing well and continue to test negative," Rizzo concluded.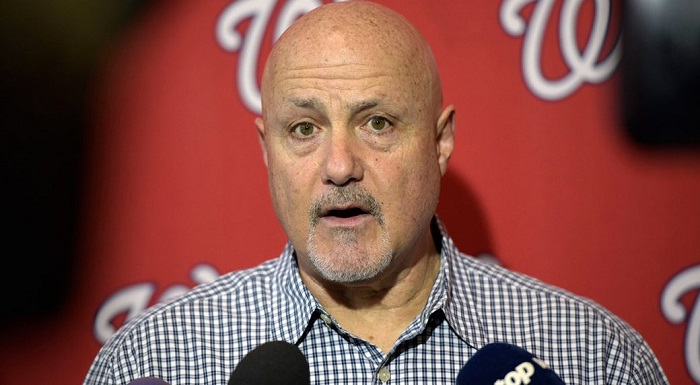 In a bit of irony, Los Angeles County is scheduled to move from the COVID-19 Red Tier to the less-restrictive Orange Tier on Monday, April 5. In doing so, Dodger Stadium will be permitted to increase the number of fans in attendance at home games – including Friday's Home Opener – from 20 percent (approximately 11,200) to 33 percent (approximately 18,500). What's even more ironic is that when this was announced and Opening Day tickets went on sale (via a pre-registered lottery drawing), they were gone in a matter of hours.
Where the nightmare for Dodger fans – and the Dodger themselves – comes into play is if MLB chooses to: (A) Postpone the Braves at Nationals series; and (B) [gulp] Postpones the Nationals at Dodgers series.
Although (A) seems quite possible, (B) seems a bit less possible – but you just never know.
…a potential nightmare in every sense of the word.
Play Ball! … I hope.
  *  *  *  *  *  * 
UPDATE:
Per MLB, the Nationals will play their first game of the season against Atlanta on Tuesday, April 6, 2021.
  *  *  *  *  *  *