History will forever show that Mookie Betts' crucial three-run home run in the bottom of the fifth inning on Saturday evening is the reason why the Dodgers beat the San Diego Padres by a score of 5-4 to remain 2.5 games behind the National League West first-place San Francisco Giants with (now) 19 games remaining in the 2021 regular season. But truth be told, should the Dodgers somehow managed to overcome that increasingly unlikely deficit, it was the at-bat (or plate appearance, to be statistically correct) prior to Betts' home run that could prove to be the single most important at-bat (plate appearance) of the season, should the Dodgers indeed go on to repeat as World Series Champions. It was, of all things, the four-pitch walk by Dodgers starting pitcher Walker Buehler off of 25-year-old Padres right-hander Chris Paddack with two outs in front of Betts' three-run / game-winning blast that allowed it to even happen.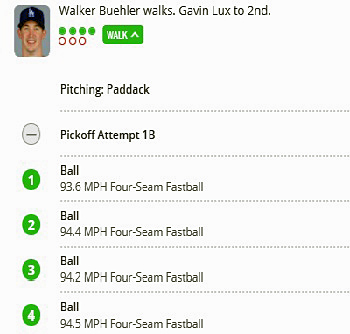 By no means is this intended to minimize the significance of Betts' 382-foot / three-RBI blast to left-center field on the very first pitch that he would see off of Paddack's replacement, 37-year-old / 12-year MLB veteran right-hander Craig Stammen. In fact, Betts drove in four of the Dodgers five runs on the night; this in addition to making a couple highlight reel-worthy defensive plays that the 28-year-old Nashville, TN native and fifth-round draft pick in 2011 by the Boston Red Sox out of Overton High School is famous for.
"I just saw a pitch over the plate," Betts said of his game-winning home run postgame. "I figured I needed to go ahead and get some swings off since I feel pretty good, and I did, and fortunately it went over the fence."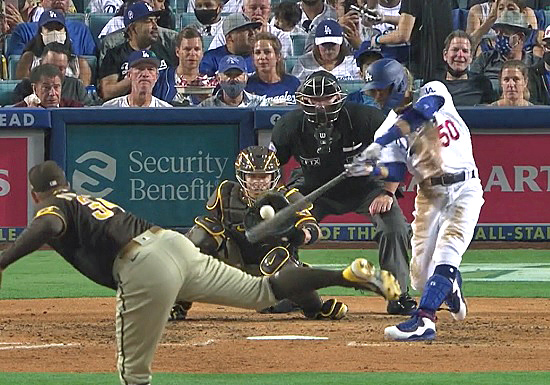 It was Betts' 20th home run of the season and his four RBI's now have him at 60 on the season; second most on the team to Max Muncy's 75.
As for Buehler, even though the box score will forever show him as going 0-for-0 on the night (since walks aren't considered official at-bats), it does show him as having scored a run – the result of Mookie's three-run blast.
But it was Buehler's arm that led to his 14th win of the season; this on the heels of his worst outing of the season five days earlier against the (ugh) Giants at Oracle Park in San Francisco.
"Definitely better than my last one, so a step forward for us and glad we pulled it out there in the end," said Buehler. "It was a good team win for us."
That "…in the end" thing was the result of normally-stellar Dodgers right-hander Blake Treinen allowing two runs on two hits, a hit batsman, and two uncharacteristic walks that turned a 5-2 laugher into a 5-4 nail biter.
"Obviously, Blake has been unbelievable for us all year, and for Joe (Kelly) to come in and pick him up, it was huge for us," Buehler added. "And obviously, when Joe Kelly's healthy, he's pretty electric, and he showed that tonight. I'm glad to have both of those guys on our team."
Kelly entered the game with one out in the top of the eighth with Padres speedy shortstop Fernando Tatis Jr. (who slugged his National League-leading 38th home run earlier in the game) on third base, and always-dangerous Padres right fielder Wil Myers at the plate representing the tying run. Kelly struck out Myers on four pitches and followed with a three-pitch strikeout of Padres left fielder Tommy Pham to end the threat. It was arguably 'Jose Kelly's' (as Joe is now called by his teammate for having worn a Mariachi jacket to the White House during the Dodgers World Series Champions visit there) best outing and biggest hold of the season. Dodgers closer Kenley Jansen then sealed the deal with a 1-2-3 ninth, to pick up his 32nd save of the season.
"It was obviously a huge spot," Dodgers manager Dave Roberts said of Kelly. "Joe made some pitches and he just filled up the strike zone. I mean, I think it was 98, 99 heater, breaking ball down below, just really good. We needed a punch-out right there with the Myers at-bat, he did that, got ahead with the fastball, couple fastballs, and then he punched Pham. So, he saved the game.
"You know, Blake's been just such a workhorse and, you know, just obviously, I count on him seems like every night," Roberts added on Treinen's rough night. "And he just didn't have his best stuff, didn't make pitches, and a couple soft-contacts, a hit batsman by (Adam) Frazier didn't help things. But it was nice that we picked Blake up for a change."
As noted, with the win – the Dodgers second straight – they remain 2.5 games back of the Giants, who have won six straight. And also as noted, it will be difficult for the Dodgers to catch – and pass – The Hated Ones in the NL West standings, especially with the Giants having a much easier schedule than the Dodgers over the remaining two and a half weeks of the regular season.
…difficult, but not impossible.
Play Ball!
  *  *  *  *  *  *