When Angels of Anaheim (not Los Angeles) owner Arte Moreno unceremoniously released 41-year-old Albert Pujols on May 13, 2021, it created quite a buzz in the baseball world, especially among die-hard Angels fans. I mean, we're talking about a future first-ballot Hall of Famer here who, with every at-bat, seemingly sets some new MLB record.
On Sunday afternoon, the Santo Domingo, Dominican Republic native and 21-year MLB veteran, who was selected by the St. Louis Cardinals in the 13th round of the 1999 MLB Draft out of Maple Woods Community College in Kansas City, inched closer to a new MLB record in the Dodgers 13-0 pounding on the National League West last-place Arizona Diamondbacks at Chase Field in Phoenix.
But here's the thing: Moreno's Pujols-less Angels are currently in fourth place in the AL West with a 52-53 (.496) record, while Guggenheim Baseball Management Group's Pujols-assisted Los Angeles Dodgers (of Los Angeles) are currently in second place in the NL West with a 64-43 (.598) record and trail the division-leading 66-39 (.629) San Francisco Giants by only 3.0 games.
Oh, sure, one can certainly argue that Pujols' best days are behind him and that he is nowhere near the player he once was. Yet almost in spite of Arte Moreno (which most certainly isn't Pujols' style), not only is he producing big time for the Dodgers, he is clearly enjoying himself and having more fun with the Dodgers than he ever did in his 10 seasons with the Moreno's Angels.
On Sunday afternoon, 'Tio Albert' (as Dodger fans and his Dodger teammates affectionately call him) went 1-for-3 with a bases-clearing / three-RBI double to left field in the top of the second inning that put the game out of reach early.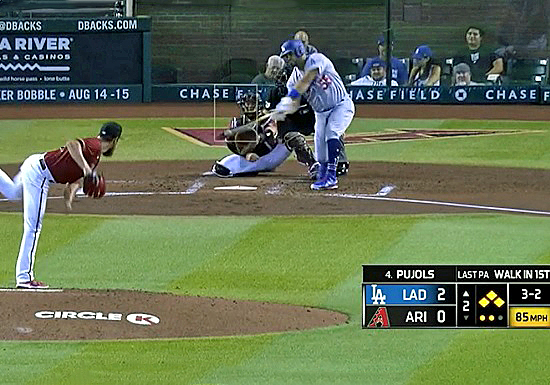 "The infusion of Albert a couple months ago was huge for us – impacting us in the clubhouse, on the field," Dodgers manager Dave Roberts said postgame. "Today, that two-out double was a backbreaker."
In addition to his 80 bases-loaded hits, Pujols is currently third on MLB's all-time RBI list with 2,141 runs batted in – 71 behind some guy named Babe Ruth and 156 behind some guy named Hank Aaron. In the 52 games in which he has appeared since joining the Dodgers, Pujols has knocked in 29 runs … and counting. He drove in 12 runs in the 24 games that Angels manager Joe Maddon had him in his line-up.
What more can we say as Dodger fans except 'Thank you, Arte Moreno. Thank you VERY much!
Play Ball!
  *  *  *  *  *  *