For the first time since September 10-12, 2020, the Dodgers have lost back-to-back games. All things considered, that is exceptionally good.
What isn't good is that Sunday's 5-2 loss to the San Diego Padres at Petco Park and Monday's 4-3 loss to the Seattle Mariners at T-Mobile Park were the result of errors.
On Sunday afternoon, usually-perfect Dodgers shortstop Corey Seager airmailed a routine throw to 6′-3″ Dodgers first baseman Edwin Rios, drawing him off the bag to prolong the inning. Instead of a scoreless eighth inning, Seager's costly error led to the Padres scoring three of their five runs.
In Monday night's game, normally sure-handed Dodgers utility infielder/outfielder Chris Taylor booted a routine grounder at second base, allowing Mariners catcher Luis Torrens to reach safely instead of being the final out of the fourth inning. Torrens would then score on a double into the right field corner by Mariners centerfielder Taylor Trammell, who had homered earlier in the game.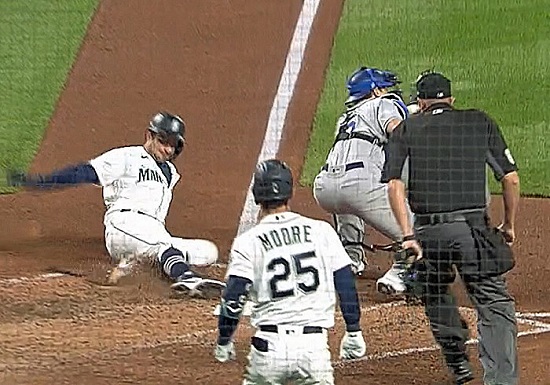 With Taylor's game-changing error on Monday night, the Dodgers have now committed seven errors in their last five games and their 11th of the young season. This ties them with the Kansas City Royals, Pittsburgh Pirates, St. Louis Cardinals, and Arizona Diamondbacks for eighth-most in the MLB – something that Dodgers manager Dave Roberts isn't too concerned about.
"I just think we're a really good defensive team. You know, sometimes … I think that ball took a hop on CT," Roberts told reporters after his team's second consecutive loss. "We still gotta make pitches, that's the bottom line, and I'll take our defense against anybody."
As for that making pitches thing, Roberts was referring to 23-year-old hard-throwing right-hander Dustin May, who allowed four runs (three earned) on four hits – including two home runs and one double – while striking out a season-high eight and walking one.
"I just think Dustin didn't have the command, working behind a lot today," Roberts said. "The two-out homer that first inning, and then the two-out double by Trammell. Two big hits right there."
But perhaps of greater concern for Roberts and the Dodgers, even more so than their (now) two consecutive losses, was Dodgers outfielder Mookie Betts being hit on the right forearm with a 94.5-MPH slider by Mariners right-hander Rafael Montero with two outs in the ninth inning.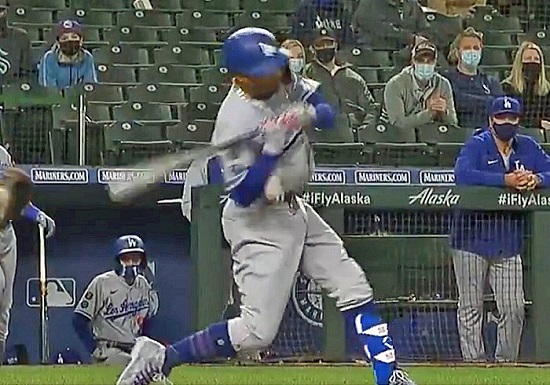 "I don't know, we're going to do some tests, but it was kind of the right forearm, a lot of soft tissue," Roberts said. "Sure, there's going to be some bruising, maybe some swelling, so I just won't know more until when he shows up tomorrow."
Stay tuned…
  *  *  *  *  *  *