It should have come as a surprise to no one that future Hall of Famer Albert Pujols received a lengthy standing ovation when he was introduced for his first at-bat in the top of the first inning at Busch Stadium in St. Louis on Tuesday afternoon, regardless of the fact that he now wears a Dodgers uniform. After all, when that wonderful day five seasons after the (current) 41-year-old Santo Domingo, Dominican Republic native retires and is enshrined into the sacred Halls of Cooperstown, it will be as a St. Louis Cardinal.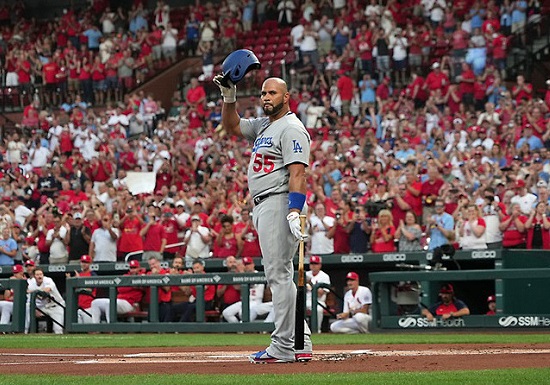 It should also have come as a surprise to no one that when Pujols crushed an 88.9-MPH slider from Cardinals left-hander J.A. Happ 386 feet over the wall in left field for a solo home run moments later, his 17th of the season and 12th as a Dodger, that everyone – regardless of what hat they were wearing – went absolutely bonkers. After all, it is Albert Pujols we're talking about here and it is what they came to see.
"It's always pretty special anytime you can come over here in St. Louis with the history that I have here with the fans," a visibly emotional Pujols said postgame. "It was really a great moment, once again, and to be able to deliver like that in the first at-bat was huge.
"It was just a nice little moment there in the first inning and then my last three at-bats also," Pujols added. "I really appreciated my time here; it was great memories, and that's something that I'll always share with these fans and this city."
The moment wasn't lost on Pujols' teammates either.
"Anytime he hits a homer, you're watching history happen," said Dodgers third baseman Justin Turner, who himself homered twice in the Dodgers' eventual 7-2 win over the Cardinals. "For him to do it here in St. Louis, it's extra special. St. Louis has a really special place in his head, and that was pretty cool for everyone in the stadium, not just Albert."
History indeed. It was Pujols' 679th career home run to move him 17 behind Alex Rodriguez for fourth-most in MLB history.
"Storybook," Dodgers manager Dave Roberts said postgame. "It's one of those things that you hope could happen, but the likelihood is very improbable. I'm a big believer that the game honors you, and the way Albert has played the game for so long and the right way, that's the way it was supposed to work out."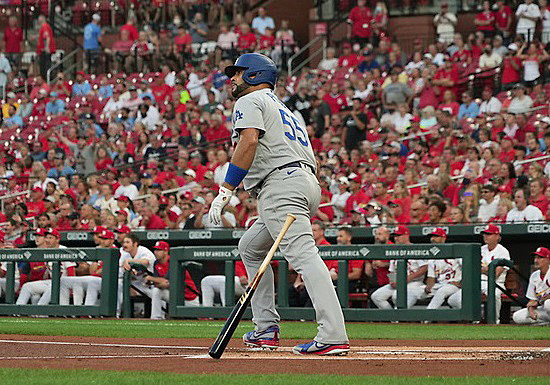 If ever there were a guy who can be considered every baseball fan's player – regardless of who their favorite team is – it is, hands down, Albert Pujols.
Play Ball!
  *  *  *  *  *  *