If you are still not a fan of Dodgers right-hander Trevor Bauer, the problem may be with you, not him.
All the 30-year-old North Hollywood, CA native and defending National League Cy Young Award winner has done through his first four starts as a Dodger is post a 2-0 record and 2.42 ERA in his National League-leading 26.0 innings pitched. In fact, his 1,000 Win-Loss percentage is tops in all of baseball right now.
On Sunday, Bauer, who was selected by the Arizona Diamondbacks in the first round (third overall) of the 2011 MLB Draft out of UCLA, allowed only one run on three hits to the NL West second-place San Diego Padres at Petco Park. He left the game after the sixth inning with the Dodgers leading 2-1. Unfortunately, 22-year-old Dodgers right-hander Brusdar Graterol was unable to hold the lead after a huge error by normally flawless Dodgers shortstop Corey Seager, allowing the tying run to score in the seventh inning for the blown save. The Padres would add three additional runs off of Messers Scott Alexander and Dennis Santana to give San Diego the 5-2 win, thus denying Bauer of what should have been his third win of the season.
"I think I've been okay; I don't think I've been particularly good," the oft-outspoken Bauer told reporters during his postgame interview. "There are some pitches I've missed with. I haven't had a game where I have all my repertoire working. There's still some things I can tighten up. I'd rate it good, but not great."
As far as his outing on Sunday afternoon, the former Santa Clarita resident and lifelong Dodger fan fell on his sword, albeit unnecessary.
"It was okay, I thought I competed well," Bauer said. "I wasn't particularly sharp. I thought my velocity was good. Probably the best it's been for a whole game, so that was encouraging.
"My comfort level is high," he added. "It's been a very quick process. I'm very appreciative of everyone in the organization welcoming me and helping me with the progress."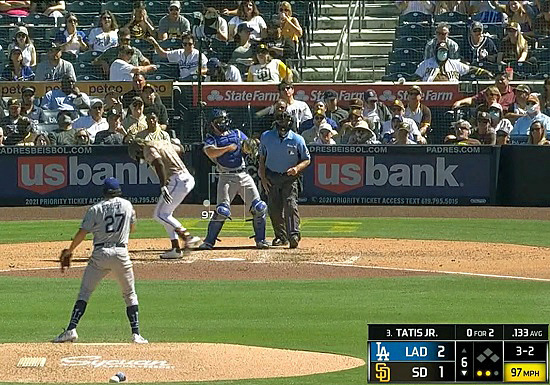 For some, the rub with Bauer is the fact that he is very active on social media. Truth be told, this makes him seem more approachable than most major leaguers, although he has been known to be a little abrasive at times.
But the bottom line for Dodger fans is that if the reigning National League Cy Young Award winner can help the Dodgers return to the World Series in 2021, a little rub never hurt anyone, right?
Play Ball!
  *  *  *  *  *  *