*  *  * 
"The Mendoza Line is an expression in baseball deriving from the name of shortstop Mario Mendoza, whose low [.200] batting average is taken to define the threshold of incompetent hitting." – Wikipedia.
  *  *  *  * 
The Dodgers have had a rough go on their just-concluded six-game road trip. They dropped two of three to the San Francisco Giants at Oracle Park, missing out on a golden opportunity to overtake them for sole possession of first place in the National League West standings. They then lost the first of three to the NL West last-place Arizona Diamondbacks in extra innings on Friday night at Chase Field.
It would be an understatement to say that their offense has been lacking with their current .246 combined team batting average, which ranks third in the National League and eighth in the MLB. Yet, that embarrassing 6-5 loss in which they had the go-ahead run on base several times may have actually helped to light a fire under the team, ultimately allowing them to take the series against Arizona in the final two games. The home runs that many Dodger fans have come to expect were backed up by some actual "small ball" from the Boys in Blue. The players were finally passing the baton to get runners around the bases. It seems their bats may finally be waking up.
It is a welcome change from the lack of offense the team has exhibited lately. With the improvement, some batters have managed to distance themselves from the Mendoza line, with one notable exception – two-time All-Star and 2019 NL MVP outfielder / first baseman Cody Bellinger, who, on Saturday night, had fallen well below that threshold with an uncharacteristic .163 batting average. As a result, Dodgers manager Dave Roberts gave his just-turned (on July 13) 26-year-old star Sunday off (with Monday being a scheduled day off) in his team's eventual 13-0 win in which they collected 14 hits.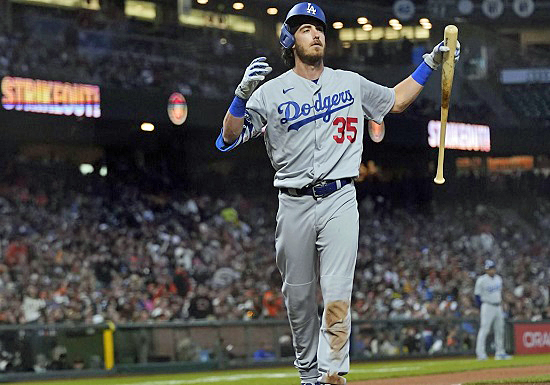 One player who stands out at the opposite end of that spectrum is outfielder AJ Pollock, who had a great July that appears to be carrying over into August. He boasts a .304 batting average, which does not do justice to his stats over the last few weeks (a .371 batting average with seven home runs and 13 RBI in July).
Pollock has been on a simultaneous 20-game on-base streak with a current 11-game hitting streak. He went 4 for 5 on Sunday, with 2 RBI's bringing him to a total of 40 runs batted in. Roberts was not wrong when he said that his left fielder has been carrying the team lately.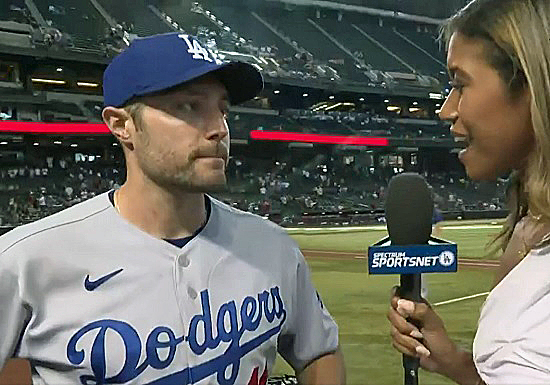 Pollock was not the only Dodger contributing to the hit count to round out the series against the Diamondbacks. Third baseman Justin Turner hit his second home run in as many days in almost the exact spot as Saturday night's game. Turner is the second Dodger to break the 20 home run mark. With 20 home runs on the year, he is right behind first baseman Max Muncy, who has 22 homers.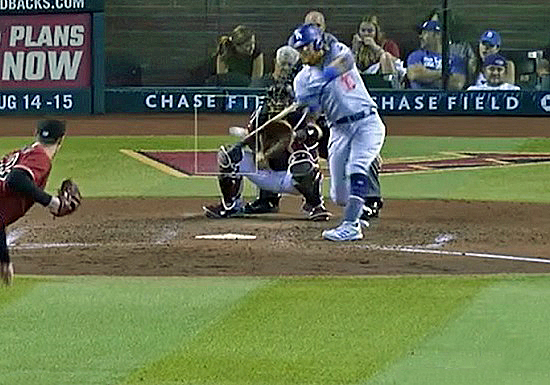 Recently acquired 41-year-old Dodgers first baseman Albert Pujols even managed to clear the bases with a two-out double in the top of the second inning, driving in three runs, which Roberts acknowledged postgame plated a pivotal role in the eventual lopsided Dodgers win.
"The infusion of Albert a couple months ago was huge for us," Roberts said. "Impacting us in the clubhouse, on the field. Today, that two-out double was a backbreaker."
Roberts also had positive things to say about outfielder Mookie Betts in his Sunday return from the Injured List for right hip inflammation.
"It changed the landscape of the game." Roberts went on to say, "He impacted really quickly, made a couple nice plays, unassisted double-play. Just a lot of good things – took some good at-bats. Across the board, it was good to have him back."
Roberts was referring to Betts putting on a web-gem display during a rare start at second base in his first outing back. He amazed fans with a spectacular over-the-shoulder catch in the bottom of the second inning that few full-time second basemen could make. He then quickly fired the ball over to Pujols for a near double-play, proving he really can play anywhere. Betts later recorded his 13th home run of the season off the left-field foul pole in the top of the ninth inning.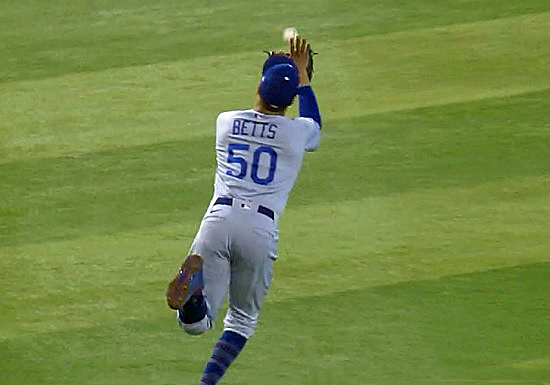 If the last two games are a prelude to the upcoming two-game series against the Houston Astros at Dodger Stadium, this uptick in hitting would provide much-needed run support for Dodgers right-hander Walker Buehler and just-acquired right-hander and future Hall of Famer Max Scherzer. They are scheduled to pitch on Tuesday and Wednesday, respectively, against the hated Astros.
Hopefully, the team can continue this offensive trend since spectators will be expecting the Dodgers to be in peak shape for Tuesday's homestand. The team will get a much-deserved day off before a two-game series against the Houston Astros. It will be the first time the teams will meet with actual fans in the stands since news broke about the cheating scandal during the 2017 World Series.
"The crowd is going to be energized, which we're expecting, we're anticipating. It's going to be a fun homestand," Dave Roberts said.
While naturally, that goes without saying, fans might agree more with Mookie Betts' assessment when asked about the impending matchup.
"I wasn't here, so I don't have the same emotions that these guys have, but I'm ready for war," declared Betts. "I'm on the Dodgers. No matter what my emotions are, I gotta ride with my team, and so we're ready."
Here's to the Dodger's bats showing up in full force … ready for war!
  *  *  *  *  *  *