It's the news that we were all dreading but deep down in our hearts knew was coming.
On Monday afternoon, following a morning MRI in Chicago, the Dodgers announced that 23-year on Dodgers right-hander Dustin May had suffered a torn ulnar collateral ligament (UCL) and will undergo elbow reconstruction (Tommy John) surgery on Tuesday, May 11 in Los Angeles.

The now famous and highly successful procedure will be performed by noted orthopedic surgeon Dr. Neal ElAttrache at the Kerlan-Jobe Orthopaedic Clinic.
May suffered the injury in the second inning of his fifth start of the season on May 1 against the Milwaukee Brewers at American Family Field. With two outs and after a fastball to Brewers left fielder Billy McKinney, May felt what he described as "a shooting pain" in his right arm and was immediately removed from the game and subsequently placed on the 10-day injured list.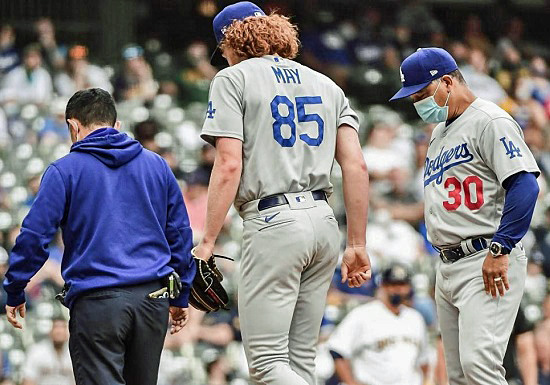 "He's handling it like a pro, wants to figure out what's the next step after surgery and attack it that way," Dodgers manager Dave Roberts answered, when asked how May was dealing with Monday's news. "But I think disappointed, certainly."
Although we won't know for sure until we get there, history suggests that May will miss all of this season and probably all of the 2022 season before resuming his career.
  *  *  *  *  *  *