*  *  * 
"The nineteenth member of the 3,000 strikeout club is Max Scherzer."
Dodgers broadcaster Joe Davis
  *  *  *  * 
It was pretty much a given that when recently acquired 37-year-old Dodgers right-hander Max Scherzer entered Sunday's game against the San Diego Padres at Dodger Stadium with 2,994 career strikeouts, he would leave the game as only the 19th pitcher in Major League Baseball history to record 3,000 or more strikeouts in their career which, of course, he did; with 3,003, to be exact.
So rare is this feat that while there have been 24 pitchers in the 152-year history of MLB to record 3,000 wins, there are (now) only 19 who have struck out 3,000 or more during their career.
Scherzer did so in the top of the fifth inning on Sunday in front of 42,637 at Dodger Stadium, with millions more watching on television, with 31-year-old Padres first baseman Eric Hosmer, who will forevermore be the answer to a baseball trivia question, as his 'victim.'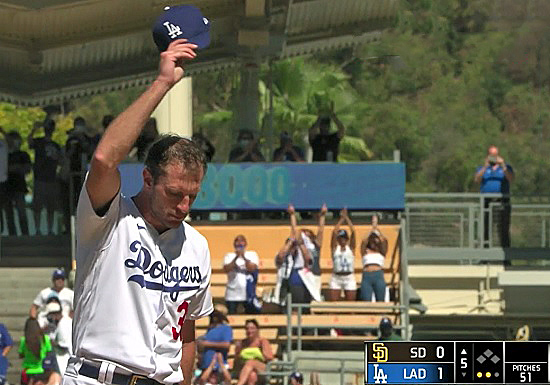 But turnabout is fair play (as they say) and part of that trivia question thing will be 'Who broke up Scherzer's perfect game the day he got his 3,000th strikeout?' The answer is – and will forever be – Eric Hosmer, whose eighth-inning double to right would be the only hit that Scherzer – and the Dodgers – would allow on this historic day.
"I think it was probably in the fifth or sixth is probably when I realized I had something going there," Sherzer said postgame. "Turn through the lineup, I would say you turn through the lineup once, you got something going. You turn through the lineup twice, you got a shot [at a perfect game]. So, once I was able to get through the sixth, I knew 'Ok, I got a shot to do this.' I was able to get through the seventh in a tight spot but knew going into the eighth that [Fernando] Tatis [Jr.] and Hosmer were going to be tough at-bats, those were really going to be tough at-bats.
"I was able to get Tatis, but Hosmer, we've done so many battles through the years, he knows everything I got, and he was able to capitalize on it. I pulled a change-up down and in, and he was able to get the barrel to it. So, I tip my hat to him, just all the battles we've had over the years," Scherzer added.
But what those 42,637 at Dodger Stadium and millions more watching on television did not – or could not – know is that during his historic seven innings of work in the Dodgers eventual 7-0 combined shut out of the friars, they would also witness a rare Immaculate Inning, which is an inning during which a pitcher strikes out all three batters on nine pitches.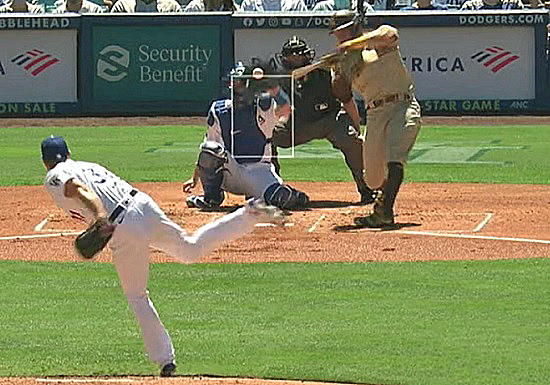 "I think I actually knew that one coming through the Pham at-bat," Scherzer answered when asked if he was aware of his Immaculate Inning. "I was able to get through an 0-2 count. You want it, you want to go out there and finish it.
"Today, my body felt great, hammy felt great," Scherzer added. "So I was able to step on the fastball in that situation and was able to get it, so that was pretty cool."
Pretty cool indeed.
Play Ball!
  *  *  *  *  *  *