If you think that there is bitterness or animosity among players who get traded from (or sign with) one MLB team to another, you would be wrong.
Although Monday's series opener between the Dodgers and Chicago Cubs at famed Wrigley Field was rained out, both teams managed to get in batting practice before the game was officially scrubbed. As such, players from the two teams had a chance to mingle on the field of the 107-year-old ballpark, second oldest to only 109-year-old Fenway Park in Boston.
Unquestionably, the most notable mingling was that of 29-year-old former – and still extremely popular – Dodgers outfielder Joc Pederson.
"I've known Joc a long time and was fortunate to spend a lot of time with him," Dodgers third baseman Justin Turner told reporters with a smile prior to Monday's BP session. "Yeah, his personality make-up, he shows up, he's the same guy all the time, always laughing, smiling, pretty light-hearted. And he was just a good guy to have around to keep everyone kinda loose.
"The home run celebrations were always good," Turner added, when asked if there was anything that he missed about the Dodgers 11th-round draft pick in 2010 out of Palo Alto High School who made his major league debut with the team in 2014. "Even when they were fence-breakers he celebrated them like they were going 500 feet. No one enjoys hitting a homer more than Joc."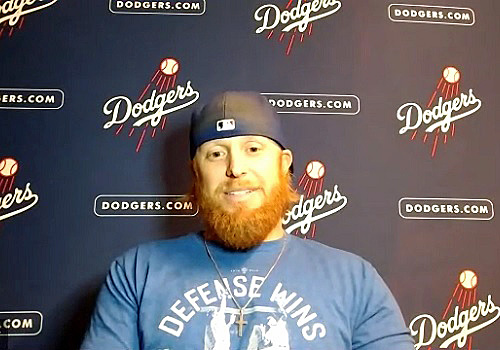 In his seven seasons in Los Angeles, Pederson celebrated 130 such home runs with his Dodgers teammates. He signed a one-year / $7 million free agent contract with Chicago in January, which includes a $10 million mutual option for 2022 or a $2.5 million buyout. In the 16 games in which he has appeared in a Cubs uniform this season, he is an un-Pederson-like 7-for-51 (.137) with one home run, one triple, and four RBI.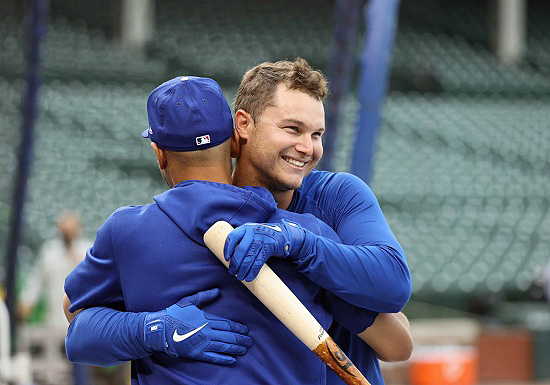 But regardless of his early struggles with his new team, Pederson was – and will always be – a favorite among Dodger fans, who also miss celebrating his famous 'Joc Pops.'
…regardless of how far they traveled.
Play Ball!
  *  *  *  *  *  *