It's a term that gets tossed around often by radio, television, and print/internet media types: 'Future Hall of Famer.' And while no one knows for sure until Hall of Fame ballots are actually counted who achieves baseball immortality and who does not, you are only kidding yourself if you do not believe that Dodgers ace Clayton Kershaw and Dodgers outfielder Mookie Betts are 'Future Hall of Famers.'
Although 34-year-old Padres right-hander (and one time Dodger) Yu Darvish matched Kershaw almost pitch for pitch through his own brilliant 7.0 innings of work, it was his eight-pitch walk of Kershaw with the bases loaded in the top of the fifth inning that allowed the go-ahead and eventual winning run to score. Through those seven innings, Darvish allowed only that one run on one hit with two walks and nine strikeouts. And though the Habikino, Japan native suffered the eventual 2-0 loss, he lowered his ERA to an excellent 2.55 over his (now) 24.2 innings pitched thus far this season. He was indeed brilliant.
But Kershaw was brilliant-er. The 33-year-old Dallas, TX native finished his 6.0 innings of work having allowed no runs, and only two hits while walking two and striking out eight, including Padres superstar and face of the franchise Fernando Tatis Jr. three times.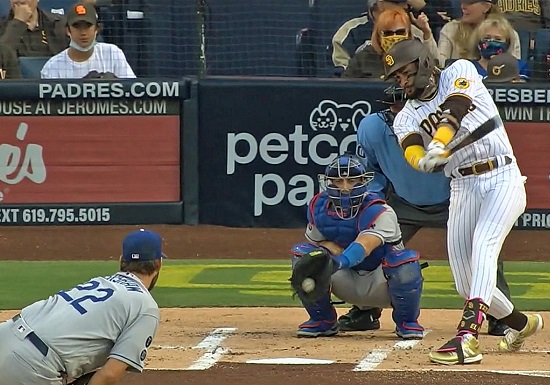 And then there's Mookie Betts.
Even though the 28-year-old Nashville, TN native has been struggling a bit lately, he is still 12-for 41 (.293) with two home runs, three doubles, and two RBI on the young season. But on this night, it was his glove that saved the day – and the win – for Kershaw and the Dodgers.
With one out in the bottom of the ninth inning, Dodgers left-hander Blake Treinen, in his second inning of relief, gave up a single to Padres right fielder Wil Myers. Dodgers manager Dave Roberts brought in Victor Gonzalez to replace Treinin, and after uncorking a wild pitch to move Myers to second base, the 25-year-old left-hander walked Padres first baseman Jurickson Profar to bring up Padres second baseman Jake Cronenworth representing the winning run. Gonzalez got Cronenworth to ground out to Dodgers first baseman Max Muncy for the second out of the inning, but both runners moved up 90 feet, with Padres left fielder Tommy Pham stepping to the plate now representing the winning run.
After fouling off the first pitch he saw, Pham hit a sinking line drive to right/center field, where Dodgers center fielder – and 'Future Hall of Famer' – Mookie Betts made an absolutely impossible diving catch to secure the Dodgers 2-0 shutout of the Padres and give Kershaw his third win of the season.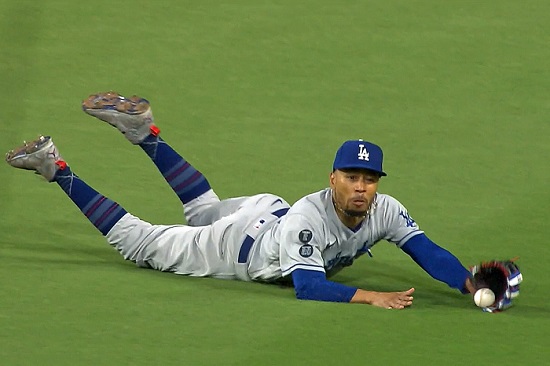 "Mookie has played a lot of innings in center field, but with that said, it takes an elite defender in center to make that play," Roberts told reporters after the game. "A lot of things have to line up. There's just a handful of guys that could've probably made that play. That's why he's arguably the best all-around player in baseball."
Although Kershaw's and Betts' playing days are far from over, the folks at 25 Main St, Cooperstown, NY had best make room for these two 'Future Hall of Famers.'
Play Ball!
  *  *  *  *  *  *