"Stuff Happens," as they (sort of) say.
That 'stuff' happened in the bottom of the eighth inning at Oracle Park on Tuesday night in Game-1 of a crucial three-game series between the National League West first-place San Francisco Giants and the second-place Los Angeles Dodgers, who entered Tuesday's contest 2.0 games behind the division leaders and their fiercest rivals.
When the dust finally settled, they were 3.0 games back … and it was ugly.
With no outs and the score tied 1-1 heading into the bottom of the eighth, Dodgers normally surefire right-hander Blake Treinen walked Giants catcher Buster Posey and right fielder Mike Yastrzemski.
The good news is that the Dodgers almost turned a double play.
The bad news is that they didn't.
On a sharp grounder to Dodgers second baseman Max Muncy by Giants first baseman Darin Ruf, Yastremski got trapped between first and second, forcing Muncy to get the sure out at first base on a fielders choice. As soon as he did and with Yastremski arriving safely at second base, Dodgers first baseman Cody Bellinger, in his first game back after suffering a mild hamstring strain last week, noticed that Posey had rounded third base representing the go-ahead run by a very wide margin. Believing that he had a play to nail Posey for the second out of the inning (and he most certainly did), Bellinger uncorked a throw that was every bit of 20 feet over the head of Dodgers third baseman Justin Turner, allowing Posey to easily score the go-ahead and eventual winning run.
"I pump-faked at second to try to get Posey off the base, and when I looked, I saw him off the base enough [that] a good throw gets him," Bellinger said postgame. "I mean, I absolutely just threw it, you know, just… it just slipped out of my hands. There's no excuses; I just slipped it, I just threw it too high, so, yeah."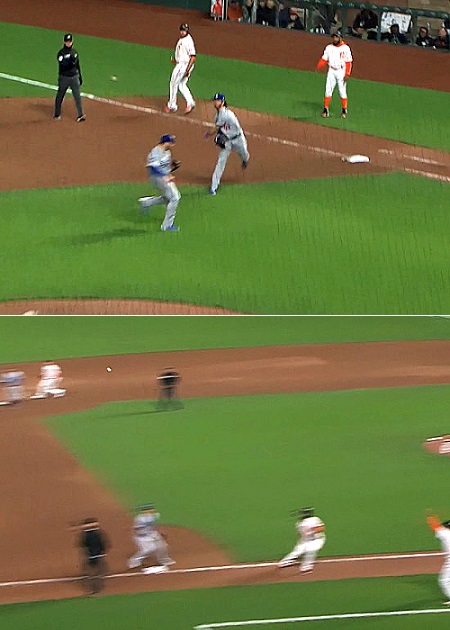 Although Tuesday night's game will forever be remembered for Bellinger's errant throw, the brutally painful truth is that the Dodgers scored only one run on only six hits while stranding five runners on base and going 1-for-4 with runners in scoring position. In the simplest of terms, this is not how you win back-to-back World Series titles.
Play Ball!
  *  *  *  *  *  *