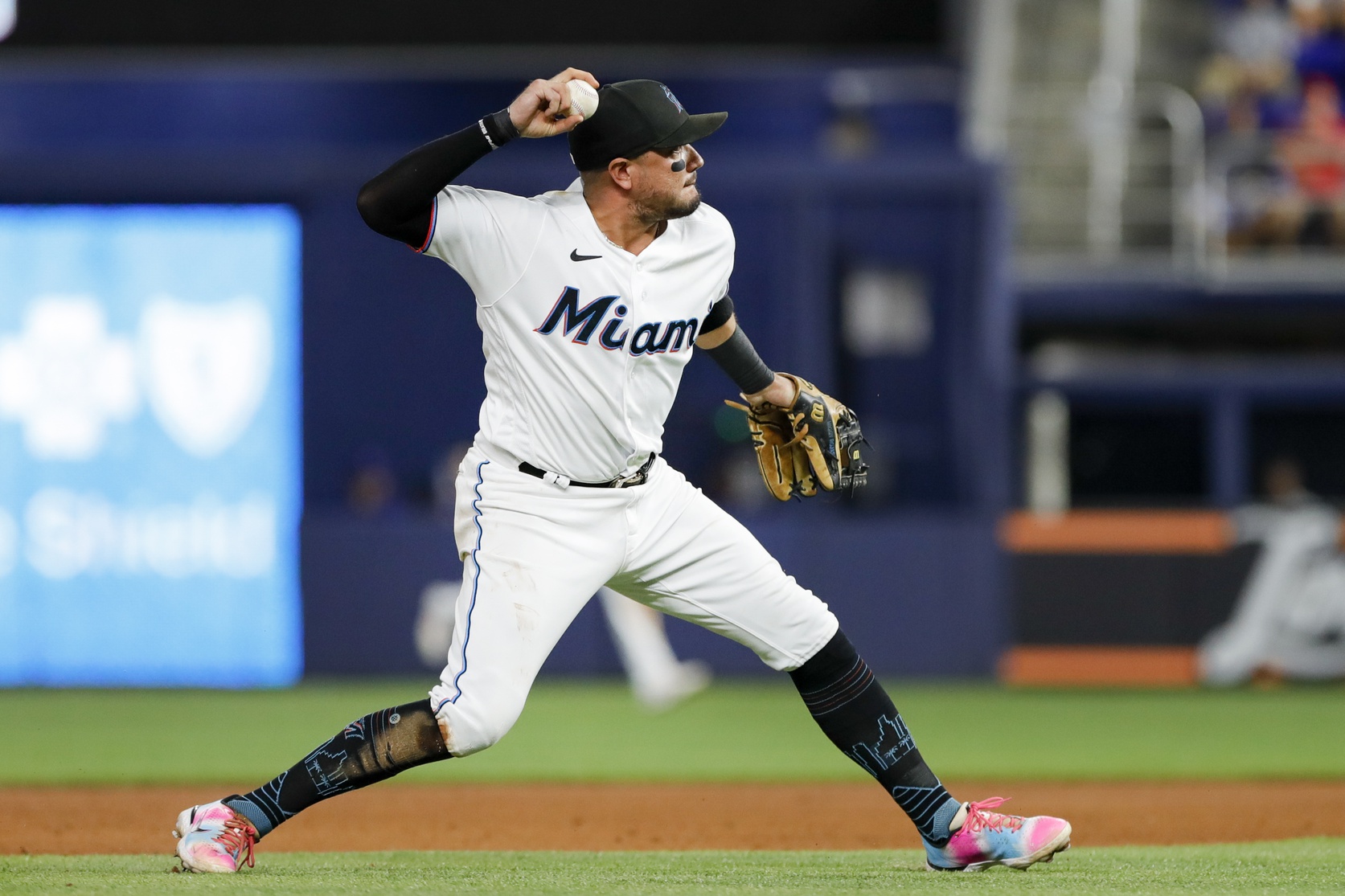 The MLB trade market hasn't been very active yet, but Andrew Friedman and the Dodgers may have just kicked it off. On Wednesday,The Athletic's Fabian Ardaya reported that the Dodgers were 'deep in talks' to acquire infielder Miguel Rojas from the Miami Marlins. Then, USA Today's Bob Nightengale confirmed it, saying the deal is done, and even giving the return. The Dodgers are sending SS Jacob Amaya back to Miami.
The Los Angeles #Dodgers get their shortstop: #Marlins Miguel Rojas. The Marlins will receive infielder Jacob Amaya. @FabianArdaya and @CraigMish on it.

— Bob Nightengale (@BNightengale) January 11, 2023
Rojas is a longtime serviceable shortstop, playing nine years in the league. He's a career .260 hitter with 39 home runs, 269 RBIs and an OPS+ of 85. Last year, he hit .236 with six home runs and 36 RBIs, but did play in 140 games — 136 of them at the shortstop position.
Rojas is a pretty elite defensive shortstop, getting 15 defensive runs saved above average at the position last year. Rojas has also played first base, second base and third base in his career, and will provide the much needed depth that the Dodgers are currently lacking.
Rojas has always had a solid reputation as a great veteran presence, and will be a nice addition to the Dodgers' locker room and clubhouse. He's due to get $4.5 million next season, before becoming an unrestricted free agent in 2024.
This is also a full-circle moment for Rojas, who began his career with the Dodgers in 2014. Rojas even played a big role in Clayton Kershaw's 2014 no-hitter, robbing a hit down the line, and keeping the no-no intact.
Rojas' immediate role isn't clear yet, whether he'll be Gavin Lux's backup at shortstop, or if he'll play most of the time there, moving Lux to second base. He could also play at third or second, which would allow Chris Taylor to stay in the outfield. But either way, the Dodgers needed some more depth in the infield, and Rojas will provide just that.
As for Amaya, he was the Dodgers' No. 15 ranked prospect. The 24-year-old hit .261 across Double-A and Triple-A last season, with 17 home runs and 71 RBIs. The Dodgers clearly didn't feel comfortable with him being the backup next season, so now they have Rojas to fill their current infield needs.
What are your thoughts on the Dodgers trading for Miguel Rojas? Let us know in the comments below!
Have you subscribed to our YouTube Channel yet? Subscribe and hit that notification bell to stay up to date on all the latest Dodgers news, rumors, interviews, live streams, and more!