For the second day in a row, following his team's second loss in a row, Dodgers manager Dave Roberts – the guy who is supposed to have the answers – didn't.
"Umm… You know, I really don't know," Roberts answered when asked what his takeaway was from Thursday's 2-1 loss to the NL Central third-place St. Louis Cardinals at Busch Stadium, during which his team had a total of four hits. "I mean, I think that we just couldn't build innings, and ahh… just couldn't put things together.
"So, it's kinda been the theme, and to kinda poke holes or try to come up with an answer right now, I don't have one," Roberts added. "It's just that time where, you know, results matter. And so, the process has been good, and we still just got to keep grinding and expect good things will happen."
Results do indeed matter. With Thursday's loss, the Dodgers are now 2.5 games behind the NL West first-place San Francisco Giants, who (thankfully) were idle on Thursday.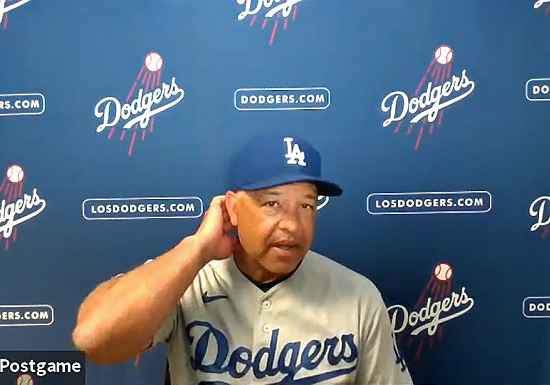 Although it goes without saying that guys need an occasional 'blow' (day off), for a game in which "results matter" (in this case, the difference between winning or losing a seven-game road trip), giving the team's hottest hitter – 27-year-old Dodgers shortstop Corey Seager – the day off raised more than one eyebrow among Dodger fans. But as you would expect, Roberts clearly knew this one was coming.
"Umm… Yeah, I mean, I just think that guys are going to have to have days off; that's just the nature of this game," Roberts answered predictably. "And we've run other guys and had the same results, So, that's the great think about this game – it's not predictable. As much as you could say it was, umm… and look back and say that it was, but we know that our offense has struggled with different guys at the bottom [of the line-up] and today."
Roberts was then asked the million-dollar question (or $13.75 million to be exact) by none other than Orange County Register's famed antagonist Bill Plunkett:
"I understand about the days-off thing, but at his point in the season, can you afford to sit two of your most productive offensive players? I understand with Will [Smith] at catcher, but isn't this a game where you maybe could have had Corey Seager in there to help?"
Roberts again gave a predictable answer.
"I just don't see Corey Seager playing 13 in a row because the bottom line is that we gotta keep him healthy," Roberts answered without hesitation. "And so, to put him in harm's way to get hurt, that doesn't do us any good either."
Keep in mind that Seager has appeared in a total of 73 of the Dodgers 141 games this season after suffering a broken right hand on May 15.
"Results matter."
On the other side of that coin is the team's worst hitter – former Rookie of the Year, two-time All-Star, Gold Glove and Silver Slugger winner, and 2019 NL MVP Cody Bellinger who, for reasons only he knows, Roberts keeps 'running him out there, (as they say); this in addition to having his second-best hitter, 33-year-old Dodgers outfielder AJ Pollock (.297), currently on the IL with a strained right hamstring.
"It's a combo," Roberts answered when asked about Pollock's loss and Bellinger's continuing offensive struggles. "Obviously, losing AJ was a loss, and hope to get him back at some point in time, which is encouraging. But there's some things that [Bellinger's] got to figure out, but also, you know, yeah, I gotta take a look and see what gives us the best chance to win on a particular night, and I'll do that."
What Roberts apparently doesn't "see" – or chooses not to – is that Bellinger is 0-for-22 (.000) in his last seven games, 4-for-45 (.089) in his last 15, and 13-for-99 (.131) in his last 30, with three home runs and 11 RBI. But the crusher – and something even Roberts can't ignore – is that the 26-year-old Scottsdale, AZ native and Dodgers fourth-round draft pick in 2013 has struck out 86 times in his 315 plate appearances (27.3%) thus far this season. Only Chris Taylor (156), Max Muncy (100), Justin Turner (89) have more strikeouts than Bellinger but have done so over 134, 123, and 130 games played, respectively, compared to Bellinger's 82 games played.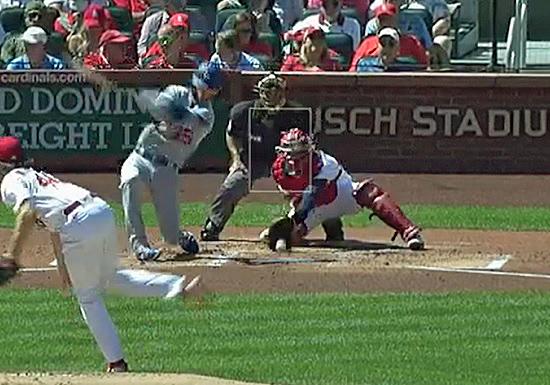 The news wasn't all bad (or depressing) on Thursday. Dodgers newcomer Trea Turner continues to swing a smoking hot bat, driving in the Dodgers only run with a two-out single in the top of the third inning to extend his current MLB-best hitting streak to 16 games … so there's that.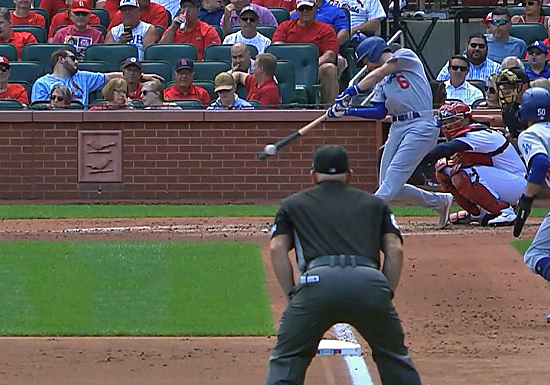 Although it is certainly still possible for the Dodgers to overcome the Giants' current 2.5-game lead over them with 21 regular-season games remaining, with as well as The Hated Ones have been and continue to play, a wild card birth into the 2021 postseason is becoming more likely than winning the Division.
Because "results matter."
Play Ball!
  *  *  *  *  *  *