If you honestly thought that Major League Baseball and the MLB Players Association would come to a quick resolution towards establishing a new Collective Bargaining Agreement, I've got some Ocean Front Property in Arizona I'll sell you cheap.
The simple truth is that even under the best-case scenario, it would take at least two meetings between the two factions; first a proposal from MLB to the union, and second, a counterproposal from the MLBPA to MLB.
Those two meetings have come and gone.
The good news, very good, in fact, is that the two sides are set to meet for a third time on Monday, January 24, 2022. Monday's meeting will be the first actual face-to-face meeting between the two parties, with the previous two having occurred via Zoom due to the ongoing (and worsening) COVID-19 pandemic.
The not-so-good news is that, unless there is a (relatively) quick agreement towards a new CBA, Spring Training 2022 is in serious jeopardy of missing its scheduled February 14 start date and a potential delay to Opening Day 2022, which is currently scheduled for March 31, 2022. It would also mean a continuation of MLB's current players' lockout.
…or worse.
Should the two sides be unable to agree on a new CBA before Opening Day, it could – and probably would – lead to a players strike, of which there have been five in the soon-to-be 153-year history of Major League Baseball. (Note: There have also been four previous lockouts by MLB). To date, there have been a total of 1,737 games – including postseason games – canceled as a result of previous players' strikes. Fortunately, no games have been canceled due to previous lockouts by MLB, so we've got that going for us.
As for Monday's scheduled meeting and per MLB Trade Rumors' Mark Feinsand):
"According to league sources, the union is seeking substantial changes to the sport's economic system, including three core components that have been part of the CBA for decades: six-year free agency, expanding Super-Two eligibility, and reducing revenue sharing. The league has been clear that while it is open to addressing players' concerns, those three issues are non-starters.

"MLB's proposals prior to the lockout included a number of concessions to players, including an NBA-style Draft lottery, a universal DH, an increase to the minimum player salary, an increase in the CBT (competitive balance tax) threshold, and the elimination of the qualifying offer system, which would remove Draft-pick compensation from all free agents."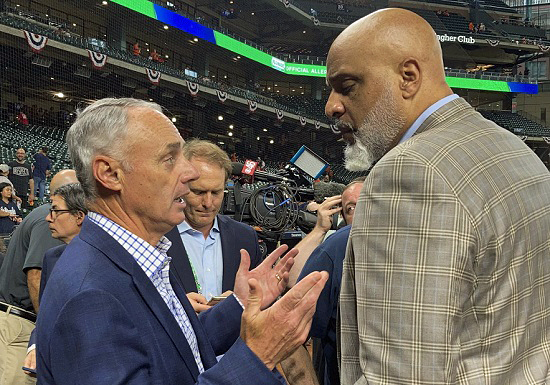 Stay tuned…
  *  *  *  *  *  *