There are things in life – many, actually – that you simply cannot put a value on; things like hearing the love of your life say the words "I do," or hearing your newborn child's first gasp of air and first cry, or having your kids walk up to you and say – completely unsolicited – "I love you, Dad (or Mom)," or witnessing your kid's first Little League hit or first school play. These things are, in a word, priceless.
Merriam-Webster defines priceless as: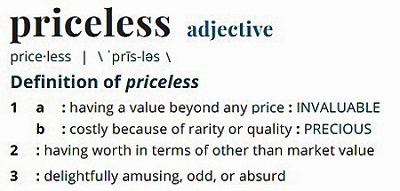 But there are other things in life – many, actually – that although not as significant as those mentioned above, are also priceless.
Albert Pujols is priceless.
In successive games on Saturday night and Sunday afternoon, the 41-year-old Santo Domingo, Dominican Republic native who was originally drafted in the 13th round in 1999 by the St. Louis Cardinals out of Maple Woods Community College in Kansas City, MO, did two (of many) priceless things since being signed by the Dodgers as a free agent on May 17, 2021 (for the MLB minimum salary of $570,500) after the future Hall of Famer was unceremoniously released by the American League West fourth-place Angels of Anaheim, who are still paying him $30 million for the 2021 season.
On Saturday night, after notching his 22nd save of the 2021 season, Pujols gave recently struggling Dodgers closer Kenley Jansen a hug as the 33-year-old Willemstad, Curacao native and 12-year MLB veteran – all with the Dodgers – was walking off the field after the Dodgers 1-0 win over the Colorado Rockies at Dodger Stadium.
It was priceless.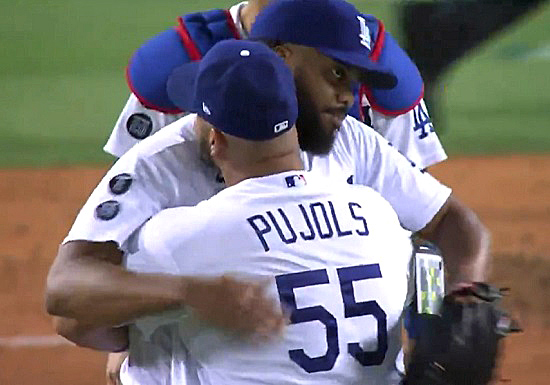 And then, the very next day, immediately after smoking-hot Dodgers All-Star utility infielder/outfielder Chris Taylor slugged the first of his two home runs on the day in the Dodgers eventual 3-2 win over those same Rockies, Pujols gave Taylor a hug in the Dodgers dugout.
It was priceless.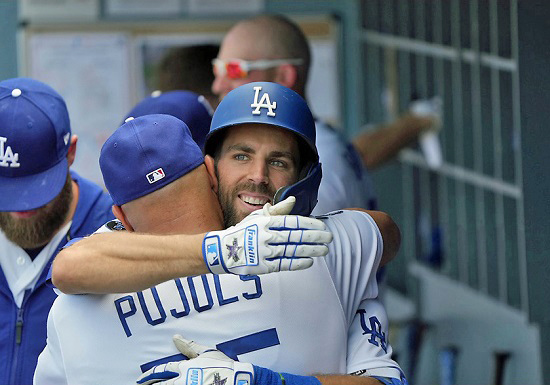 "I think Albert probably cheers for his teammates more than anybody," Taylor said postgame when asked what it was like getting a bear hug from the 6-3 / 235-pound gentle giant. "It seems like he's so happy – like genuinely happy – for everyone. He's more happy for you than you are for yourself. So, knowing that, and coming in and seeing him waiting for you to give you a big bear hug, is a pretty cool feeling.
There is no other way to put it. Seeing Albert Pujols in a Dodgers uniform is priceless.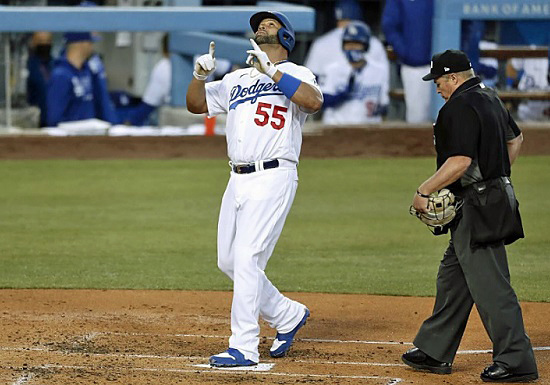 Play Ball!
  *  *  *  *  *  *