Shortly after the Dodgers disappointing 6-4 loss to the San Francisco Giants at Oracle Park on Sunday, the team immediately packed their bags as the second-place team in the NL West, now one game behind the rival Giants, and headed to St. Louis to open a four-game series with the Cardinals at Busch Stadium beginning on Monday at 4:15 p.m. PT.
Multiple media sources are reporting that Busch Stadium will see its largest crowd of the year for Monday's series opener. Although a good many of what are often referred to as some of baseball's most loyal fans will be there to witness what figures to be some outstanding baseball between two of the game's most storied franchises, a good many more will be there to witness what is affectionately being dubbed the 'second homecoming' of former St. Louis Cardinals great and future Hall of Famer – and current Dodgers first baseman/pinch-hitter – 'Tío Albert' – Albert Pujols.
"This has always been a nostalgic-rich franchise with a very sentimental fan base," Bernie Miklasz of St. Louis' 'AM590 KFNS The Fan' said during Pujols' Zoom press conference on Sunday afternoon. "His return in 2019 was like a Pujols festival. If there was any lingering resentment over him leaving, it was washed away that weekend."
The 10-time All-Star, six-time silver slugger, three-time MVP, two-time Gold Glover, two-time World Series Champion, and 2003 Batting Champion made his first appearance as a visiting player at Busch Stadium with the Los Angeles Angels of Anaheim two summers ago. Cardinals fans showed so much admiration for Pujols that it brought him to tears.
"I think I took 13 plate appearances, and all 13 plate appearances, there was a standing ovation, and they were standing until I tipped my cap," Pujols said of returns to Busch Stadium. "That's something that was really special to me. It ranks up there if not the best moment in my career, probably up there one or two including the World Series."
Fans of both the Dodgers and Cardinals will have an opportunity to see the beloved three-time NL MVP during the four-game series, as Dodgers manager Dave Roberts told reporters on Sunday that Pujols will play "a couple of games" in St. Louis. He is scheduled to face left-handers J.A. Happ on Tuesday and Kwang Hyun-Kim on Thursday.
Pujols has played an enormous role for the Dodgers this season and made a valiant effort to save a drowning Dodgers offense against the Giants on Sunday with a pinch-hit two-run home run in the top of the ninth inning, turning a 6-2 ballgame into a more respectable 6-4 ballgame. It was his 678th career home run and moved him to 18 home runs behind Alex Rodriguez for fourth on MLB's all-time home run list. Unfortunately, Pujols' late heroics wasn't enough to save the game and move into first place for the NL West.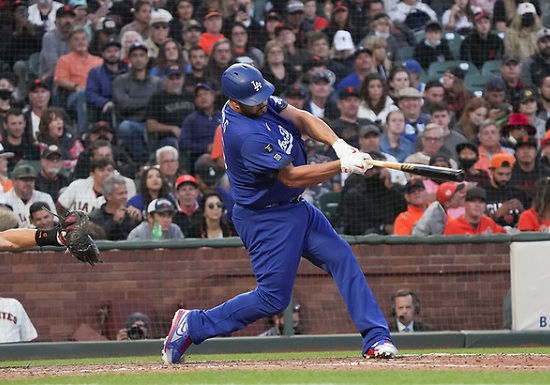 Regardless, enjoy some excellent baseball this week … no matter which team – or player – you are rooting for.
Play Ball!
  *  *  *  *  *  *