It wasn't pretty. In fact, being brutally honest, it was downright ugly. It took 16 innings, five hours and 49 minutes, included 34 combined strikeouts, 14 combined walks, and 14 combined hits, but the (still) National League West second-place Dodgers defeated the (still) National League West third-place Padres in front of 41,765 at a sold out Petco Park; a good many of whom were (very tired) Dodger fans.
But here's the thing. Although the marathon game was eventually won on a dramatic 16th-inning home run by smoking-hot Dodgers left fielder AJ Pollock (with Dodgers catcher Will Smith the automatic runner on second base), this near-six-hour marathon game never would have happened were it not for a costly (and at the time seemingly minor) throwing error by normally flawless Dodgers newcomer second baseman Trea Turner – only his third since being acquired from the Washington Nationals on July 31 along with future Hall of Famer Max Scherzer. Turner airmailed a throw over the head of Dodgers first baseman Max Muncy in the second inning which was followed by two ground outs, allowing Padres shortstop Jake Cronenworth to score on an RBI single off the bat of Padres left fielder Wil Myers. That unearned run gave San Diego a 1-0 lead, which went unanswered until Smith slugged a solo home run in the top of the eighth inning to (very) deep left-center field to make it a 1-1 ballgame … which would last another two hours.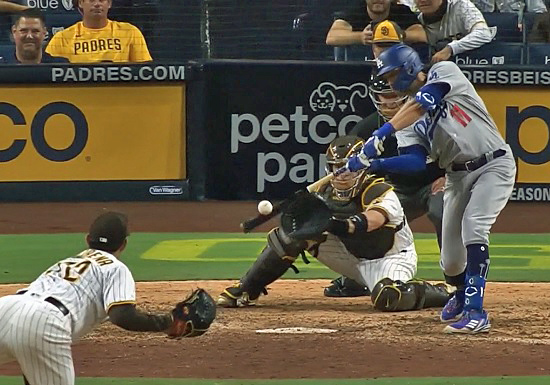 There were 11 intentional walks issued during the game, eight by the Dodgers – the most ever by one team in Major League history. Dodgers manager Dave Roberts' decision to do so worked perfectly, as none of them came around to score. So, too, for Padres manager Jayce Tingler.
But at one minute to 1:00 am PT, right-hander Shane Greene, the Dodgers ninth reliever of the night (after yet another brilliant start by 2021 NL Cy Young favorite Walker Buehler) got Padres second baseman Adam Frazier to ground out to Dodgers shortstop Corey Seager for the final out of the near six-hour game and the 5-3 Dodgers win to remain 2.5 games behind the NL West-leading San Francisco Giants.
"It was pretty frustrating, but no one was more frustrated than the hitters themselves," Roberts said postgame. "We had pitches that we should've handled, but we just didn't execute when we needed to. Certainly there's a cost with the arms that we had to use tonight and pick up the pieces for (Thursday's series finale). But I guess just the solace is you still found a way to win a game."
Play Ball!
…albeit tired Ball.
  *  *  *  *  *  *