You would think that given a six-run lead heading into the seventh inning, the defending 2020 World Series Champions – a team referred to by many as the best team in all of baseball this season and among the best ever – would be unbeatable.
You would think.
They were not.
After six innings of the single best pitching performance of his young two-year MLB career against the division-rival San Diego Padres, 23-year-old Dodgers right-hander Dustin May was removed by Dodgers manager Dave Roberts after the Justin, TX native had allowed only two runs (one earned) on two hits, with one walk, and a career-high 10 strikeouts.
Truth be told, it was not a bad decision by the six-year Dodgers manager, considering that May had reached the 93-pitch mark (of which 61 were strikes) in only his fourth appearance (third start) of the four-week-old 2021 season.
The problem lies with the Dodgers offense – or lack of it – from May's teammates. We're talking an offensive failure of biblical proportions here – a failure that the best team in all of baseball this season should be absolutely ashamed of and utterly embarrassed by.
On the night of this nationally televised (ESPN) game, the Dodgers were an unacceptable 3-for-17 (.176) with runners in scoring position and stranded 18 men on base, including leaving the bases loaded four times.
"We just didn't play good baseball," a visibly annoyed Roberts told reporters postgame. "We just didn't play clean baseball; we gave up runs late. Dustin had a fantastic outing, and we gave up… we didn't pitch well in the backend of the game."
Indeed.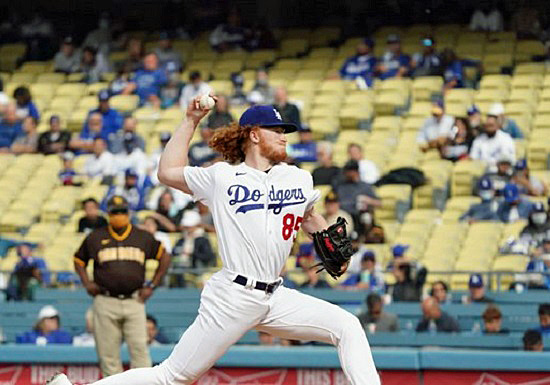 Once May exited the game, the Dodgers bullpen basically crapped on him. They allowed a collective seven runs on nine hits, with five walks while striking out only six.
"They just got to not walk guys and execute pitches," Roberts said of his bullpen.
And though it may seem unfair to throw 22-year-old right-hander Brusdar Graterol under the bus for his brief 0.1 innings pitched, he allowed one run on two hits, with no strikeouts and one walk.
"Brusdar didn't execute pitches tonight," Roberts said sharply.
But the real nightmare occurred when Roberts brought in 32-year-old right-hander Jimmy Nelson to pitch the ninth with the Dodgers holding on to a 7-5 lead. When the dust finally settled, Nelson had allowed two runs on five hits, while striking out two and walking one for his first blown save of the young season. When asked why even used the struggling Nelson, who entered Sunday's game with a 1-1 record and 3.68 ERA, Roberts didn't hesitate with his answer:
"We had three pitchers that weren't going to pitch tonight, and we had a two-run lead, and that was the best option right there," he answered.
That three-pitcher thing was the result of left-hander Scott Alexander having been used on consecutive days and right-handers Blake Treinen and closer Kenley Jansen having been used for one-plus innings the night before. That being said, why Roberts sent the clearly ineffective Nelson back out to pitch the 10th when the Dodgers failed to score in the bottom of the ninth will forever remain a mystery. Nelson did, however, escape the inning having allowed only a walk, while striking out two – including ever-dangerous Padres superstar shortstop Fernando Tatis Jr., so there's that.
The same cannot be said for 27-year-old left-hander Garrett Cleavinger, who was called up from the Dodgers alternate training site prior to Sunday's game. Although the Lawrence, KS native and third-round draft pick by the Baltimore Orioles in 2015 out of the University of Oregon allowed only one run on one hit, the Dodgers failed to score in their half of the 10th, for which Cleavenger was charged with the 8-7 Dodgers loss.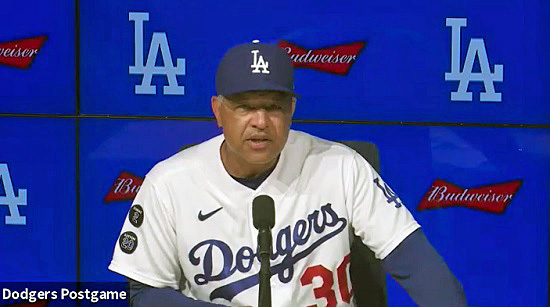 But it is what it is, and, as people so often like to say: "It's still early."
But the great Tommy Lasorda once said it best, as he so often did:
"No matter how good you are, you're going to lose one-third of your games. No matter how bad you are, you're going to win one-third of your games. It's the other third that makes the difference."
Play Ball!
  *  *  *  *  *  *